*Product provided by our partner, Umi.
I don't know how the weather is where you are, but fall is starting to set in in our part of the country. Oh yes. The leaves are starting to turn, nighttime is coming earlier and the temperatures are dropping off everyday. Normally, I'm pretty sad that summer is over and winter is closer than I'd like to admit, but fall fashion is my favorite, especially when shopping for my girls! There is nothing cuter than sweaters, skinny jeans and Mary Janes on my little one's!
Umi is making sure your little one starts fall off on the right foot with their newest designs and styles. I'm talking the most handsome boots for boys, irresistible Mary Janes for girls and sweet styles for baby. Oh, and the colors are simply stunning! Nothing says fall like dark browns, rich navy's and pretty plums.
With Little Miss walking everywhere, she really needs shoes that are going to give her tiny feet support, while still allowing for room to grow. That is why I was so excited when Umi sent my littlest Princess the Davan in Brown Multi to review. These precious Mary Janes feature all-over pink details set on a brown background for an adorable look. The strap even got in on the design detailing by featuring a "stitched" design across the top and a coordinating flower detail at the end. A contoured rubber outsole on the Davan's allow babies to roll-up on their toes and the patented anti-bacterial removable foot bed helps keep little feet healthy.
(Excuse the drool spots on Little Miss' shirt. She is teething!)
When the Davan Mary Janes from Umi arrived, I could hardly wait to get them on Little Miss' feet! Up until that point, getting her to keep shoes on her feet was quite a task, but as soon as I put these on her, she took right off without even thinking about it. Ever other step or so, she would look down, smile and then keep on truckin' in the direction she was headed. She has no problem walking in them and I just love the way they look on her. Another feature that I love is the contoured rubber outsole. Because we all know how babies tend to scuff the toes when they crawl with them on, this prevents them from scuffing up and keeps them looking great. Plus, have I said how cute they are?
Princess P's fashion sense changes almost weekly, so when I was given the chance to choose an Umi style for her, I wanted to go with something pretty neutral. That way they would match a variety of items in her closet and they could always be our "go-to" choice. I ended up going with the Cassie in Cocoa Multi for her. This modern day Mary Jane is stylish, sleek and will match a ton of different outfit options.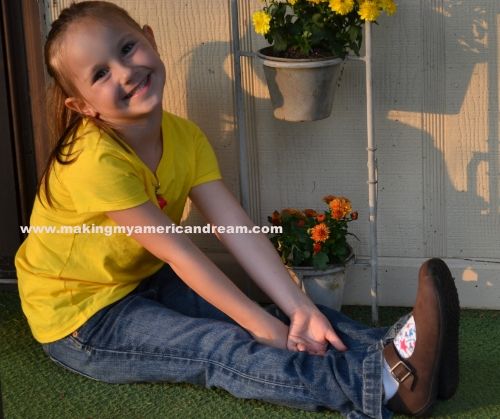 Much to my surprise, Princess P requested to wear the Cassie shoes when they first arrived and I couldn't believe how cute and stylish they looked on her! I adore how they look with jeans and leggings and P says they fit and feel great. They have held up very well so far, as Umi shoes always tend to do, and I anticipate her wearing them all fall and winter, and probably into the cooler months of spring as well. They are a bit roomy in the toe area, which is great for her growing foot, but stay on great thanks to the adjustable hook-and-loop closure. She also has no problem running and playing in them all day long. We love the Cassie style shoes from Umi and I cannot wait until we can get tons of use out of them in the coming weeks and months!
Buy It: You can purchase the Davan and Cassie styles at www.umishoes.com
Giveaway Giveaway
One lucky reader will win a $60 Umi Gift Card!
a Rafflecopter giveaway

This review is based strictly my opinion. Others may have a different opinion or experience with the product listed above. I was provided the sample free of charge by the company or PR agency and I provided my honest opinion. No other type compensation was received for this review.