*Product provided by our partner, Betty Crocker, through MyBlogSpark.
With school starting back, after-school activities resuming and an unexpected change with Chris' work schedule, I have little time for anything these days. Dinner has come from the drive-thru more times that I care to admit these last few weeks and you can definitely tell in my waist line, and my wallet! When I do attempt to whip something up on the nights we don't have anything going on, I either don't have all the ingredients or the meal takes way too long to prepare. That is why I am so thankful to have been given the chance to try the new Ultimate Hamburger Helper and Ultimate Mashed Potatoes from Betty Crocker.
The new Betty Crocker Ultimate Mashed Potatoes and Ultimate Helper mixes allow you to actually enjoy your meal with your family because they are super easy to prepare and taste great! Each box comes with both delicious seasoning and a rich, creamy sauce so you can create a meal that everyone will love in no time at all. Each of the products come in a variety of flavors, like Ultimate Hamburger Helper Three Cheese Marinara and Betty Crocker Ultimate Cheddar Mashed Potatoes, and can be purchased at a grocery store nearest you.
Recently, Betty Crocker sent us a "Ultimate" Gift Pack so we could try out the newest creations in style. We received three boxes of the Ultimate Hamburger Helper Three Cheese Marinara, one box of Betty Crocker Ultimate Cheddar Mashed Potatoes, a 3-piece Bamboo Serving Bowls, a serving spoon and four plates.
The night after the gift pack arrived, Chris had already planned to make steaks on the grill since the grilling season was almost over, so I decided to make the Betty Crocker Ultimate Cheddar Mashed Potatoes to serve with them. When I opened the box, I was surprised to see two packs of potatoes inside, instead of just one! Preparation was super simple, just a matter of boiling water, adding butter and milk, and they were done in a matter of minutes. Once they were off the heat and all of the liquid was absorbed, I stirred in the cheese sauce pouch and swirled it into the potatoes. They were good, and I loved the little extra something that the cheese sauce added, however they were a little dry for my taste. After re-reading the back of the box, I noticed a "tip" for extra-creamy potatoes and I will definitely be trying that next time. I did love how fast they were to prepare, though! Sure beats having to peel, boil and then mash potatoes by hand!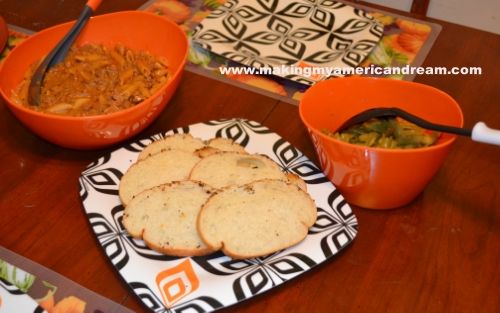 A couple of nights later, I decided to make the
Ultimate Hamburger Helper Three Cheese Marinara
because we were short on groceries and on time. Preparation for that was also simple and it took about 25 minutes from start to finish. I decided to pair it with green beans, because my girls will eat those every night if we let them, and freshly baked (not by me) french bread. The Three Cheese Marinara had a great flavor and was super creamy and delicious. In fact, Little Miss cleaned her plate and kept waving her hand at me for more! Even though we all got seconds, probably when we didn't need to, we still had enough leftover to save for Chris to eat the next day. I happened to be around when he was eating it, so I just had to have a taste. It was still rich and creamy and it tasted as good as it did the night before! (That is a really good thing because Chris is always taking dinner leftovers to eat a work the next day.) This meal was super yummy and was on the table quickly. I can't wait to try the other Ultimate Helper mixes!
Giveaway   Giveaway
One lucky reader will win an Ultimate Gift Pack from Betty Crocker!
(Includes: 1 box of Ultimate Helper Mix, 1 box of Betty Crocker Ultimate Potatoes, 3-Piece Bamboo Serving Bowls, 4 Plates and a Serving Spoon. ARV $55!)
a Rafflecopter giveaway

This review is based strictly my opinion. Others may have a different opinion or experience with the product listed above. I was provided the sample free of charge by the company or PR agency and I provided my honest opinion. No other type compensation was received for this review.