*This is a sponsored post where product was provided in exchange for a review
Back in 2010, I reviewed a set of clips and a mini photo frame from a company called Mayfair Lane. Three years later, I am happy to report that I still use these products (which have survived two moves!) on my refrigerator and love them as much as I did when they first arrived. So, when I was contacted about the companies new brand name and introduced to their unique new products, I jumped at the chance to do another review.
Lulalu offers a fun and colorful collection of products that help organize busy people on the go. Perfect for the home, office or dorm, their line of products feature a unique (non-toxic!) material that allows them to grip to stainless steel fridges, mirrors and more. Plus, you can move them over and over again and they will leave no marks or residue! Get organized with Lulalu's collection of dry erase boards, note pads, calendars and more!
When I say that Lulalu really hooked me up with some products, I mean it! I was sent the Click Clip 4 Pack Set in Warm Colors, the 10×10 Weekly Calendar Pad Blocks, the 5×10 Dry Erase Board Set in Orange Pink Gelato, the 5×5 Photo Frame in Orange, the Vase & Marker Set in Orange Pink Gelato and the Lulalu 5×10 List Pad Weekly Warm Stripes to review. Trust me, my fridge is looking super colorful these days!
The first thing I placed on the fridge was the
5×10 Dry Erase Board Set in Orange Pink Gelato
.  At first, I thought that I would put both of them on there, but decided to just use the orange board to take up less room, since we are working with a limited space. (I put the pink one aside to use later or on the other side of the fridge.) I love the Dry Erase Board because it is perfect to jot down quick notes and messages. Plus, it wipes clean with one swipe. The marker that came with it works great and is stuck right above the board for easy access.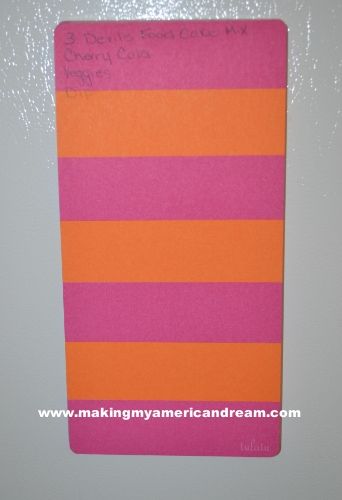 Right beside the Dry Erase Board, I have the
5×10 List Pad Weekly Warm Stripes
. Now, I know that it says "weekly" in the title, but I use this notepad to write down the grocery list, to-do list and even appointments. It is stuck right where I need it if I happen to be in the fridge and notice that we are out of something. I just write it down and tear off the sheet when I head to the store. It sticks great, even with the pulling and tugging, and I love the pop of color it adds the space.
For things like photos, invitations and artwork, the Lulalu
Click Clips 4 Pack Set
works great. I currently only have two occupying my fridge space, but I am sure the other two will be added soon. Right now, they are working great at holding up wedding invitations and a special Mother's Day card, but when school starts back, I'm sure they will be full with artwork. I love how you just push them, place the paper in the slot and release. They also come in fun colors and would work great in offices and dorm rooms, too!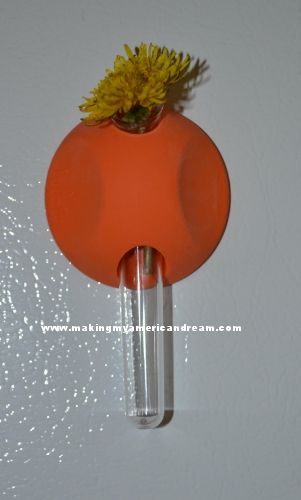 The
Vase & Marker Set
from Lulalu is super cute and adds a little something different to our fridge. Yes, in the picture it is home to a dandelion, but you can use it to house so many other things. Toothbrushes, writing instruments, and more! I don't have the Marker that came with the set on the fridge right now, because I would not doubt get it mixed up with the dry erase marker and write on the board, but it is handy to have around in other spots.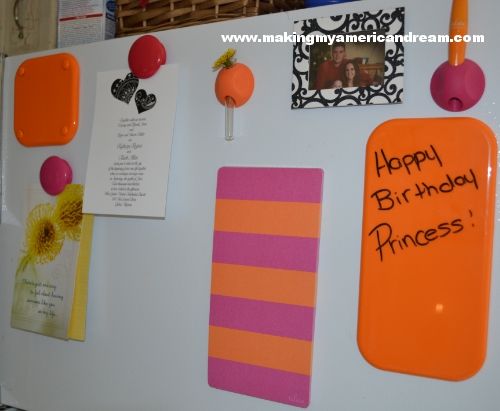 I love photos on my refrigerator so the
5×5 Photo Frame in Orange
is a welcome addition. It sticks like all the other products and holds the photo in four notches on the sides. Since it is a bit of an odd shape, I just have the picture of the dog sitting it it right now (Hey, he's cute!), but I can't wait to add a photo of my own to it.
The 10×10 Weekly Calendar from Lulalu is awesome. It features 50 sheets (or weeks) of Monday through Sunday spaces, as well as a spot for notes that could be used for doctors appointments, games, etc. I currently don't have it up on my fridge because as soon as I can see my desk and filing cabinet again, it is going in my office space. Plus, I figured it might be more useful when school starts back.
I have found that all of the products from Lulalu are high quality and are super cute and modern! They stick great to my fridge and pretty soon, to my filing cabinet. They will definitely help keep my  life more organized, especially come this fall, and I can use them in more room than one.  I can also see them being great for students that are heading to college this fall and for offices. I love my products from Lulalu and can't wait to use them for many years to come, just the products I received over three years ago.
Buy It: The 10×10 Weekly Calendar Pad Blocks ($15), Click Clip 4 Pack Set ($20), 5×10 Dry Erase Board Set ($25), 5×5 Photo Frame ($10), Vase & Marker Set ($20) and 5×10 List Pad Weekly($8) can be purchased at www.mylulalu.com
Giveaway Giveaway
One lucky reader will win a Click Clip 4 Pack Set and 10×10 Weekly Calendar Pad Blocks from Lulalu.
a Rafflecopter giveaway

This review is based strictly my opinion. Others may have a different opinion or experience with the product listed above. I was provided the sample free of charge by the company or PR agency and I provided my honest opinion. No other type compensation was received for this review.