Little Miss is getting so big and becoming more and more mobile by the day. Of course, this is great for her, but not for me. (I would like to keep her tiny and immobile for a just few more months.) Unfortunately, there isn't a way to keep her small, but thanks to the Joovy Moon Room, there is a way to keep her contained (and having fun) so I can keep a little bit of my sanity!
The Moon Room from Joovy isn't like your ordinary playard. Its unique shape conserves much needed floor space while maximizing its interior for some serious room to play. (I'm talking over ten square feet of play area, plus awesome views from all sides!) The Joovy Moon Room is also durable, it's made from the highest quality materials such as super strong mesh and 600D nylon fabric, and folds up small for storage and travel. You can rest easy knowing that your child is in such a safe and secure play space (or sleep space).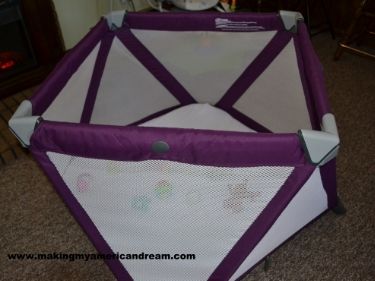 Joovy very generously sent us the
Purpleness Moon Room
to review and since its arrival, it has been a permanent fixture in our living room. Not only does it keep Little Miss safely contained, but it is also pretty cool to look at, too!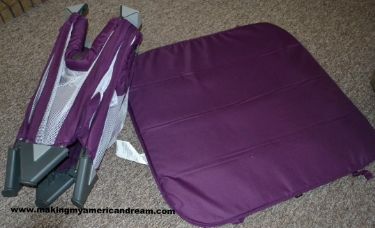 When I pulled the Moon Room out of the box, I was thinking that there might be a piece or two to assemble since it was brand new, but all I had to do was pull it out of the box and set it up. No assembly required! Like many other playard's, you set up the Moon Room by pulling up on each side rail until it locks into position (you will here it snap) and then push down on the center of the floor to secure it. To complete the setup, you set the mattress inside the playard (cushion side up) and slide the Velcro straps through the slots in the floor of the playard to secure. I love that the instructions are printed on the inside of the mattress and it even has a pocket to store the owner/instruction manual!
The awesome people at Joovy really know the way to a Mother's heart because the Moon Room comes with a machine washable 100% cotton fitted sheet. (Squeal!) I washed the fitted sheet before I put it in the playard and I was surprised at how soft it was when it came out of the dryer. If you wish to attach the sheet, you will need to fit the sheet over the mattress (and pull the Velcro straps through) and then secure it in place.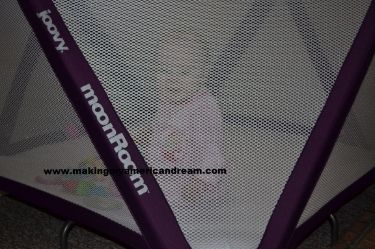 When I first put Little Miss in the Moon Room, she just looked at me like I was crazy. But then I added some of her favorite toys and she forgot all about me and went to playing. Since then, she has learned that she can roll over the entire floor of the playard, look out the sides to see what is going on around her and she is even beginning to crawl around it on her belly. I'm sure trying to pull up on it will be soon! I love that I can sit her in the Moon Room and she is safe (i.e. not picking things up off the floor and putting them in her mouth) and contained with her toys. Even though it probably isn't recommended, Princess P joins her in there every now and then and they play together.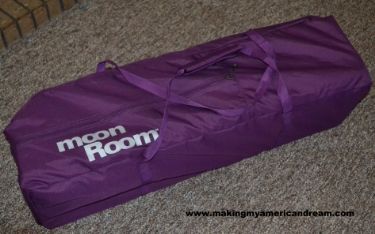 Folding the Joovy Moon Room is as easy as the assembly. You simply release the Velcro straps on the mattress, take it out and pull up on the center of the playard floor. Then, locate the button (under the fabric) on each side rail, press it in and slightly pull up until it is released. Gather the playard up, rap the mattress around it (cushion side in) and attach the Velcro straps to keep it in place. The Joovy Moon Room also comes with a handy carry bag for storage and travel.
The Joovy Moon Room has definitely provided me with a safe place to put Little Miss when I need to get something done. It is also a great space for her to play and move around in without the risk of her getting hurt. It fits great in the corner of the living room, right next to the desk, and it is really neat to look at. I really like the Joovy Moon Room and I would recommend it to any parent looking for a spacious playard that can also be used when traveling.
Buy It: The Joovy Moon Room ($219) is available in Purple, Black or Charcoal and can be purchased at www.joovy.com. Additional fitted sheets are also available to purchase.
This review is based strictly my opinion. Others may have a different opinion or experience with the product listed above. I was provided the sample free of charge by the company or PR agency and I provided my honest opinion. No other type compensation was received for this review.