Princess P's spring break isn't for another week, but we are already planning some fun things to do. If the weather corporates, I would love some time at the park, riding bikes in our driveway and maybe even our first picnic of the season. And while we do have some fun activities planned, I would love to be celebrating spring break like many others – at the beach!
Many families will be heading to the beach over the next couple of weeks and it is so important to remember to protect your kids and yourself from the sun's harmful UVA and UVB rays. Sunscreen is a great start, but what about the body parts that are covered by swimwear? Even though clothing can block sunlight to some degree, harmful UV rays can still get through and do damage to the skin. That is why I am loving SwimZip Swimwear for kids!
SwimZip is a collection of stylish UV 50+ swimwear for babies, toddlers and children. Specially designed with a full-length zipper for easy on and off, this swimwear collection protects against harmful UV rays and provides a comfy fit that your little one will love. SwimZip offers stylish UPF protection that can be worn anywhere!
Even though it is 20 degrees outside and snow is in the forecast, I couldn't resist the opportunity to review a cute swimsuit from SwimZip! And, since Little Miss is the newest (and most tender) addition to the family, I figured it might be best to review a suit for her. After browsing the SwimZip site and going back and fourth between the Ruffle Me Pretty and All Aboard swimsuits, I went in a totally different direction and asked if I could review the Sassy Surfer suit in a 6m-12m size.
When the Sassy Surfer swimsuit arrived from SwimZip, I couldn't believe how cute it was! This pink and white polka dot suit comes with a fully-zippered rash guard, complete with ruffles around the sleeves and bottom, and bottoms that feature the same cute ruffles. Offering a UPF (Ultraviolet Fabric Protection) 50+ sun protection, this swimsuit is cute and functional!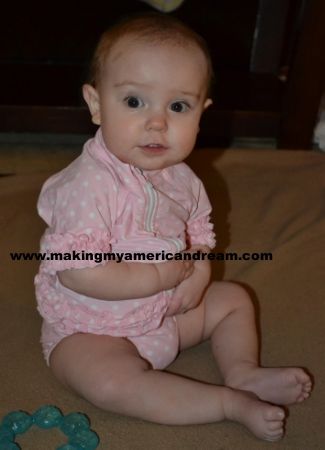 I requested a size 6m-12m because that is Little Miss's current size and I want her to be able to wear it as soon as it is warm enough to get in the water. The Sassy Surfer suit was super easy to get on Little Miss (wiggling and all) and is so cute. The rash guard is just a touch big on her, but I am glad because she will be able to wear for longer this summer, and the bottoms fit perfectly over her diaper.
Another neat feature on the SwimZip rash guards, is the "Zipper Garage" at the top to avoid scratched and irritated chins. Plus, the rash guard's also feature Raglan Sleeves, to allow for plenty of room for play in the arms, and a protective zipper flap. To avoid fading, the swimwear from SwimZip is chlorine resistant and made from a Lycra/Nylon blend to allow for quick drying and extremely soft swimwear.
I cannot wait until it warms up enough to go swimming and we have the chance to put Little Miss in her Sassy Surfer swimsuit from SwimZip. I love, love, love the fact that it has UPF 50+ protection and the full-length zipper will make getting a wet suit of a wiggling baby so much easier! Plus, she looks pretty darn cute in it if you ask me!
Buy It: The Sassy Surfer swimsuit ($29.99) is available to purchase at www.swimzip.com
Giveaway Giveaway
One lucky winner will receive a swimsuit from SwimZip!
(Winner will be able to choose size and style.)
a Rafflecopter giveaway

This review is based strictly my opinion. Others may have a different opinion or experience with the product listed above. I was provided the sample free of charge by the company or PR agency and I provided my honest opinion. No other type compensation was received for this review.