My Mother taught me from a very early age to always have a first aid kit handy, both in your home and vehicle. You never know what might happen, and when you throw kids into the mix (especially if you have a slightly clumsy child that always seems to be getting hurt, like Princess P), accidents can be quite frequent. Be prepared and assemble a first aid kit just in case.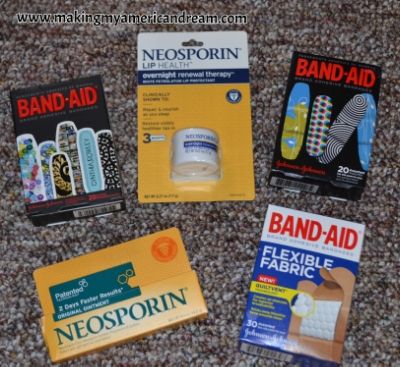 Two of the main things in our first aid kit that we seem to go through the fastest are adhesive bandages and antibiotic ointment. A big part of that is because we have a daughter (like many other children) that has to have a BAND-AID on the slightest little cut, and if she is really bleeding, two or three. However, there are times when she really does need first aid care. And, thanks to
BAND-AID
and
NEOSPORIN
, we are now fully stocked in that department!
Hear is a list of items we were sent for review:
Both Princess P and I have put these products to good use since their arrival and they have been great additions to our first aid kit, even the NEOSPORIN LIP HEALTH Overnight Renewal Therapy. And, with the weather getting warmer, I am sure we will be getting much more use out of these products.
The Collectors Series BAND-AID Brand Adhesive Bandages even match P's SpongeBob Slippers!
Buy It: NEOSPORIN and BAND-AID Brand Products can be purchased at various retailers (such as Walmart, Target and CVS) and online at drugstore.com
Giveaway   Giveaway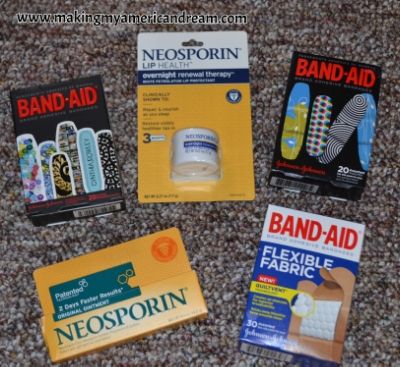 One lucky reader will win an assortment of NEOSPORIN and BAND-AID products like I received!
a Rafflecopter giveaway

This review is based strictly my opinion. Others may have a different opinion or experience with the product listed above. I was provided the sample free of charge by the company or PR agency and I provided my honest opinion. No other type compensation was received for this review.