Little Miss is only 7 months and 11 days old, but she has grown and developed so much in the last few weeks. Not only did she cut two teeth and say her first word ("da-da"), but she has also learned to sit up by herself and is even getting mobile by pushing herself backwards while she is on her belly. Next, she will be learning to crawl and then, she will be walking. And, while I'm not in any hurry to have my little baby walking, I have been thinking about good supportive shoes for those all important first steps.
UmiBaby is the brilliantly redesigned baby collection from Umi shoes. Their new lineup of hand-crafted styles feature flexibility for growing infants with a corresponding fit for each transformative milestone. With two different stages, Crawl + Cruise (6-13 months) and First Walker (10-24 months), UmiBaby shoes helps guide their important first steps into the future.
With spring right around the corner, Umi recently released their spring collection and I am loving all of the new styles, both for baby and big kid. And, to celebrate their new collection, Umi generously sent Little Miss a pair of her very own UmiBaby shoes. The Cassia in Pewter, to be exact. Before I requested the size, I wanted to make sure that I got the right fit for Little Miss, so I printed out the size guide on the Umi website and measured her foot. When I placed her foot on the page, it came a tad past the size 18 mark and since I wanted her to be able to wear these shoes for several months (hopefully when she begins walking), I opted to go with a size 19, or a US size 4.

When the Cassia UmiBaby shoes arrived, I couldn't wait to try them on Little Miss. But, before I did, I wanted to carefully inspect them and go over their neat features. For example, these shoes feature a removable anti-bacterial footbed that helps keep little feet healthy and comfy. This patented, earth-friendly footbed uses heat-activated Chinese herbs combined with scientific engineering to provide a healthy foot environment.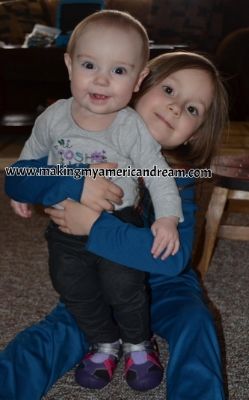 The pewter-colored
Cassia
shoe is accented with a purple sole and trim, as well as pink accents across the top of the shoe and a flower detail along the strap. The shoe features a no-skid outsole and an adjustable hook and loop closure for a custom fit. I found the footbed to be nicely cushioned and the sole is flexible when bent. When I put the shoes on Little Miss, I noticed them to be about a size too big, which I figured since I went a size up. However, they stay on fine and she seems comfortable when she wears them. And, while they may be mainly for looks now, I know they will provide the support and comfort she needs when she starts walking.
Buy It: The UmiBaby Cassia ($50) can be purchased at www.umishoes.com
Giveaway   Giveaway
One lucky reader will win a $60 Umi Shoes Gift Card!
a Rafflecopter giveaway

This review is based strictly my opinion. Others may have a different opinion or experience with the product listed above. I was provided the sample free of charge by the company or PR agency and I provided my honest opinion. No other type compensation was received for this review.