With winter still in full swing in our neck of the woods, Princess P is having some serious cabin fever issues. She has managed to find all kinds of toys in her toy box that she had forgotten about, watched more movies than I would like to admit and has even gotten pretty good at using scissors on every piece of scrap paper that she can find. So, when I was given to opportunity to review the Glow Crazy Doodle Dome, I jumped at the chance!
The Glow Crazy Doodle Dome is a traveling dark room for your little artist that allows them to create anything they want! Thanks to the special light pen, their art will "glow-to-life" on the wall of the Doodle Dome and provide hours of fun. After reaming on the wall for a few minutes, the art will begin to fade and they will have a blank slate to create something totally different. The Glow Crazy Doodle Dome comes with one light pen, the doodle dome, a carry case, four stencil sheets and one tip booklet.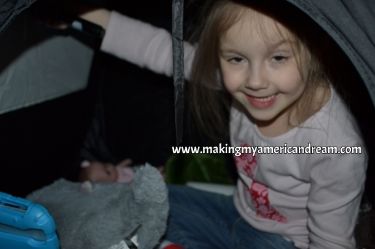 When the Glow Crazy Doodle Dome first arrived, I thought it was going to be pretty small based on the box size. However, I was surprised when we unfolded it (it pops up into place) and it was a decent size. I mean, it's not huge, but two kids could fit in it just fine. In fact, I was able to crawl in it and create the "Piece Of Me" (below) (the two circles are fading from a previous creation) on the wall. The doodle dome also has two vents so it doesn't get too hot and stuffy and a roll up door for convenience.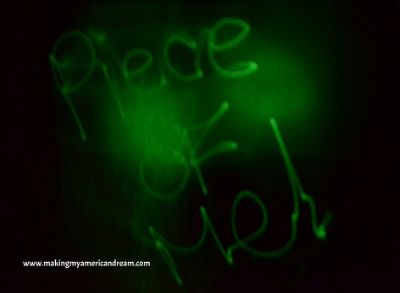 On one wall, you will see a white screen and that is where the magic happens. Place the light pen near the screen, or on it for a darker glow, and get to writing, drawing or doodling your creation. After a few minutes on the screen, you will start to see the art fade and then it is time to come up with something else. Use the included stencils or get creative on your artwork! We haven't had any problems with the light pen not producing light or going dim, nor have we had to replace its batteries (2 AAA) yet.

Since its arrival, Princess P has gotten plenty of use out of the Glow Crazy Doodle Dome. Not only does she use it to doodle in, but it has even become her new "room", as she calls it. The doodle dome has proved to be a great dark place for movies, playing with friends and even nap time, all while being centrally located in our living room. I guess you could say that the Glow Crazy Doodle Dome is a hit in our house!
Buy It: The Glow Crazy Doodle Dome ($24.99) can be purchased at toysrus.com
Giveaway   Giveaway
One lucky reader will win a Glow Crazy Doodle Dome!
a Rafflecopter giveaway

This review is based strictly my opinion. Others may have a different opinion or experience with the product listed above. I was provided the sample free of charge by the company or PR agency and I provided my honest opinion. No other type compensation was received for this review.