One of Princess P's most favorite places recently announced that they are adding three new friends to their already awesome lineup! On January 11th, Build-A-Bear Workshop launched the Disney Princess Bear and matching clothing and accessory line. Then, on January 18th, the new Harajuku Hugs Panda debuted at Build-A-Bear Workshop stores in the U.S., Canada and United Kingdom and online at buildabear.com.  The third new Build-A-Bear Workshop friend is set to be released the first of next month (February), so be sure to keep an eye out for its reveal!
I received an email a couple of weeks ago, while we had the flu, from Build-A-Bear Workshop informing me of this exciting news and offering me the opportunity to review one of these new friends. Of course, when Princess P saw that I had cuddly, cute bears on my computer screen, she quickly informed me that she wanted the black and white panda. A couple of days later, the Harajuku Hugs Panda arrived on our porch fully decked out in head-to-toe fashion!
In a partnership with Harajuku Lovers (Launched by Gwen Stefani, Harajuku Lovers is a brand that includes apparel, accessories and stationary and reflect Gwen's love of Japanese culture and pop art), Build-A-Bear Workshop launched Harajuku Hugs Panda and the first installment of bear-sized last Friday, January 18th. Since its debut, fashion lovers have enjoyed dressing their stuffed animals in fashion-forward clothing and accessories in the popular Japanese style.
"I'm so excited to share the Harajuku Hugs line with everyone. This is the first time we've had the apparel available for stuffed animals and I hope all of the fashion loving kids out there have so much fun mixing and matching all the different styles on their Harajuku Hugs Panda," says Gwen Stefani
We received the cuddly and soft Harajuku Hugs Panda dressed in the Harajuku Hugs Heart Dress, matching Harajuku Hugs Panties, Black Patent Bow Heels and Black Bow Headband. Basically the Fashionista Harajuku Hugs Panda, minus the white ruffle socks and G Doll. This furry panda is totally trendy and fun!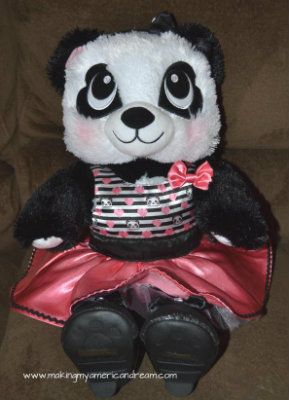 Not really being a girly girl, I was afraid that Princess P was going to take the fully decked out Harajuku Hugs Panda to her room, undress her and play with just the bear. However, I was pleased to find the panda, still completely dressed, sitting on Princess P's bed while she made her a snack in her play kitchen. I asked her what she thought and she replied, "Look at her high heels!". See, you don't have to be into all things girly to appreciate the Harajuku Hugs Panda from Build-A-Bear Workshop! Plus, Princess P quickly figured out that the Black Bow Headband fits Little Miss' head as well!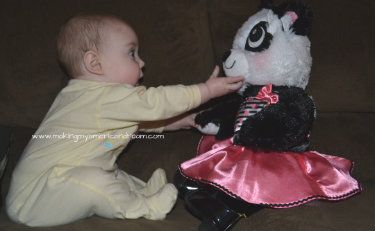 The Harajuku Hugs Panda is adorable with her big heart-shaped eyes, pink cheeks and cozy fur. Her Harajuku Hugs Heart Dress is black, white and coral and features a Harajuku Hugs Panda print on the top and a full skirt with tulle lining. The panties match perfectly and even have a danity black lace trim. The Black Bow Headband and Black Patent Bow Heels (complete with sparkly toes, a big bow and rhinestone) add the perfect finishing touch. Super cute and super trendy, the Harajuku Hugs Panda from Build-A-Bear Workshop is fun to play with and, in Little Miss' case, fun to talk to!
Buy It: The Harajuku Hugs Panda ($20), Harajuku Hugs Heart Dress ($13.50), Harajuku Hugs Panties ($3.50), Black Bow Headband ($3.00) and Black Patent Bow Heels ($7.50) can be purchased at your local Build-A-Bear Workshop store or online at buildabear.com.
Giveaway   Giveaway
One lucky reader will win a $25 Bear Buck$ Gift Card to Build-A-Bear Workshop!
a Rafflecopter giveaway

This review is based strictly my opinion. Others may have a different opinion or experience with the product listed above. I was provided the sample free of charge by the company or PR agency and I provided my honest opinion. No other type compensation was received for this review.