Each time I put Princess P and Little Miss into the tub, I constantly wonder about the safety of the products I use to get them clean. What type of chemicals are in these products that I am rubbing all over them and being absorbed into their skin? It really makes you want to go through all of their skincare products and read the labels!
Recently, I was introduced to live clean (baby), a Canadian brand of eco-friendly personal care products that are specially formulated with both mother's concerns and baby's sensitivities in mind, and I have been really impressed with their products. They use only natural, non-irritating, supremely gentle plant based ingredients in their products to ensure that baby will look, feel and smell their very best. Recently launched in the U.S., live clean (baby) is value priced and available exclusively at Walgreens and Walgreens.com.
Along with offering gentle, plant based formulas, live clean (baby) is also both environmentally responsible and highly efficacious. Formulated without many of the commonly used chemicals that are damaging to the environment, live clean is free of Sodium Lauryl Sulfate (SLS) and Diethanolamine (DEA), a common ingredient used for rich lather and viscosity building. live clean (baby) is also free of parabens (preservatives used to extend the shelf life of personal care products) and other harsh preservatives, as well as phthalates (chemicals commonly used to make fragrances last longer). Packaged in recyclable containers and shipped in cartons made from recycled materials with environmentally safe inks, live clean (baby) is carefully created to be as earth-friendly as possible.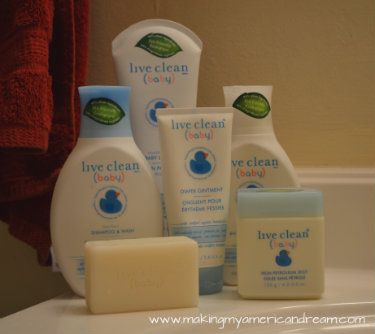 We received the entire moisturizing skin care collection from live clean (baby) to review. Each of these products are made with up to 98% plant ingredients, are petroleum free and tear free and are encriched with Certified Organic Botanicals.
For bath time, we received the Baby Bath, Bar Soap and Shampoo & Wash (which received The National Parenting Center's 2012 Seal of Approval and was named a 2012 National Parenting Publications Awards (NAPPA) Honors Winner)  from live clean (baby). The Shampoo & Wash features a tear-free formula that gently cleanses without drying, leaving baby's skin and hair feeling soft. It is make with purified water and enriched with certified organic botanicals of Chamomile, Lavender and Aloe. When using the Shampoo & Wash I noticed it had a nice lather and gentle, fresh scent. It left Little Miss feeling and smelling great! Also tear-free and enriched with Chamomile, Lavender and Aloe, the Moisturizing Baby Bath from live clean (baby) will leave baby's skin soft and smooth. It features the same gentle scent and has a rich lather, even without SLS and DEA. The Bar Soap, which I like to use on my own skin, is enriched with shea butter to gently moisturize and delicately cleanse skin. Each bar (it comes in a pack of three) lasts quite awhile and leaves skin feeling clean and soft. While I haven't used this particular product on Little Miss, I can say that I love to use it on myself! The Original Scent smells so good and leaves your skin feeling great!
We also received several after bath products from live clean (baby) to try – Moisturizing Baby Lotion, Diaper Ointment and Non-Petroleum Jelly. The Moisturizing Baby Lotion features a non-greasy formula that gently moisturizes delicate skin and absorbs quickly, leaving skin soft, smooth and supple. Its gentle scent is light and fresh and leaves baby's skin smelling great. I use this on Little Miss after she gets out of the tub and it really does leave her skin (and my hands) soft and smooth. When diapering, I use the live clean (baby) Diaper Ointment to protect her delicate skin. This nourishing diaper ointment is formulated with natural and sustainable ingredients, including zinc oxide, to help soothe and provide a protective moisture barrier. It wipes away easily and protects her little bottom from getting red. The live clean (baby) Non-Petroleum Jelly has proved to be super helpful this winter. I use this unique petroleum free formula, that is derived from plant based ingredients, on a patch of dry skin on her forehead to protect and soothe. It also has proven to be super helpful in various other instances.
Overall, I have been really pleased with the entire product line from live clean (baby)! Not only do I love that they use natural, non-irritating ingredients that are environmentally safe, but I also love that they leave baby's skin feeling and smelling great. They are also very reasonably priced (for natural products) and available to purchase locally.
Buy It: You can purchase live clean (baby) products (starting at $6.99) exclusively at Walgreens and Walgreens.com
This review is based strictly my opinion. Others may have a different opinion or experience with the product listed above. I was provided the sample free of charge and I provided my honest opinion. No other type compensation was received for this review.