Have you heard the news? All the goodness you've come to expect from Yoplait can now be found in the frozen aisle! That's right, Yoplait has taken their popular, natural yogurt flavors, and transformed them into Yoplait Original and Greek Frozen Yogurt Pints and Bars.  That means there are four new ways to enjoy low fat and rewarding benefits of Yoplait yogurt!
There are so many new options when it comes to the new Yoplait Frozen yogurt, you will have a tough time choosing which one to try first! I mean, do you go with the Honey Caramel Frozen Yogurt Bars or the Original Mountain Blueberry in the pint? Or, perhaps the Original Harvest Peach? This decision could really take some time!
Yoplait Original and Greek Frozen Yogurts are a good source of calcium and contain live and active cultures. Also, the new Greek flavors contain at least five grams of protein per serving, which is twice as much as regular frozen yogurt. That means you can have all of the frozen, creamy goodness you want (within moderation) and not feel so bad about it!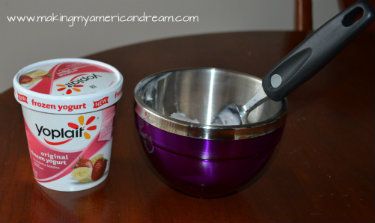 Recently, I was sent a Yoplait Frozen Yogurt prize pack so I could sample some of the varieties. In the prize pack, provided by MyBlogSpark, I received a coupon for a free Yoplait Original or Greek Frozen Yogurt item, either a pint or bars, two stainless steel bowls that are perfect for cold desserts and a 8″ ice cream scoop made of 18/10 stainless steel with zinc alloy that makes scooping out the frozen yogurt easy.
Since I am already a fan of Yoplait's Strawberry Banana Yogurt, I opted to go with the Yoplait Original Strawberry Banana Frozen Yogurt in the pint. However, my local grocer had several different options to choose from, both pints and bars, and I can't wait to try a different flavor!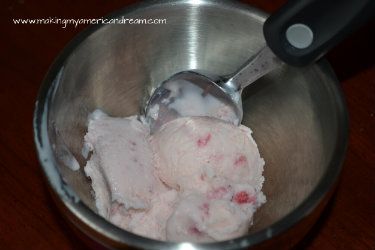 The scoop I received in the prize pack made it super easy to get the Yoplait Frozen Yogurt out of the container and the stainless steel bowl kept it cold while I was taking pictures for this post. The Yoplait Original Strawberry Banana Frozen Yogurt has a rich, creamy texture and the flavor is terrific! In fact, Princess P thought it was ice cream the entire time she was eating it and she loved that it had pieces of strawberries in it! I thought the flavor was wonderful and I definitely didn't feel as guilty eating it as I do when I sit down with a pint of ice cream. Yoplait Frozen Yogurt is a great alternative to ice cream and tastes just as great! This is a perfect treat for all of you who are trying to eat more healthy in the New Year, too!
Be sure to like Yoplait on Facebook!
Buy It: Yoplait Original and Greek Frozen Yogurt is available in pints and bars and can be found in your frozen aisle at your local grocer.
Giveaway   Giveaway
One lucky reader will win a Yoplait Frozen Yogurt Prize Pack!
(Includes: Coupon for free Yoplait Frozen Yogurt Item, two stainless steel bowls, and an 8″ ice cream scoop)
a Rafflecopter giveaway

This review is based strictly my opinion. Others may have a different opinion or experience with the product listed above. The information, products and Yoplait gift pack were provided by Yoplait through MyBlogSpark and I provided my honest opinion. No other type compensation was received for this review.