You may have noticed that I went on an unannounced blogging break around the 23rd of December and I'm just now returning. Since then, I've been able to spend much needed time with my husband and girls, as well as many of my other family members and it has been so nice! These weeks have been filled with plenty of pictures, baking and present unwrapping! Here are just a few pictures from the last two weeks…

Christmas Eve – The morning was spent in urgent care with viral conjunctivitis and a rash. Two trips to the pharmacy and several mini pigs in a blanket later, Princess P was feeling just fine! (We were cleared to go places by her doctor since she didn't have any drainage from her eye.) Above are my two favorite girls before we left for a family gathering on Christmas Eve night.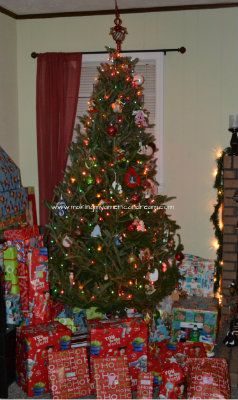 Santa came and left plenty of presents for the girls! Princess P left out cookies and milk for Santa and a gallon of water and bread (we were out of carrots) for the reindeer. She was so excited to see that the treats were gone the next morning!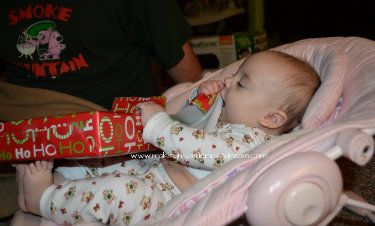 Little Miss was excited to open her presents, mainly just to eat the wrapping paper! She got several toys, clothes, a special pop up toy from her sister and a vanilla flavored Sophie the Giraffe teether.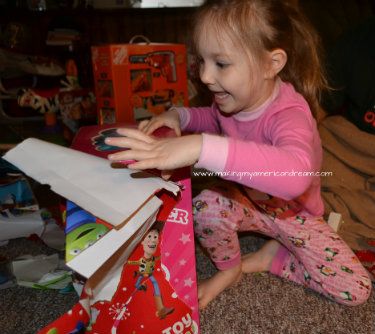 Princess P racked up! Santa left her several Toy Story items, including her favorite – Lotso Hugging Bear! She also got clothes, a tool set, books, a fishing pole, bath items and an iPad (a first generation that was passed down from her Grandfather).

The aftermath
Chris and I racked up, too! My favorite gift from is the Tiffany & Co necklace from Chris and the girls that has the initials C.A.A on the back (for Chris and the girls)!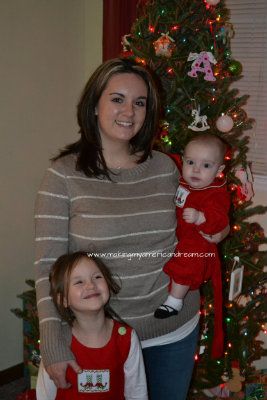 After we opened presents here, we headed out to my dads house to open presents with him. Later in the week we did Christmas with my mom and her husband. We still have Christmas at my Granny's house to do, though. She had the flu on Christmas day and now has pneumonia, but she is on the mend.
This Christmas has been strange, with all of the illnesses and plans gone wrong, but it has still been special. Now that things are starting to calm down, it is time to take the tree and decorations down, pack them away and clean the house. Then, I need to get some blog posts up (as soon as I can get my visual tab back in my WordPress dashboard!) and get back on track with everything else. However, tonight I will be setting on the couch (with a sick baby) and watching the University of Florida (hopefully) win the Allstate Sugar Bowl! Go Gators!