If you have an older child in your house, you know how hard it can be to break them away from the TV, video game system or computer. And, while those offer some educational aspects, there is nothing like learning through hands-on play. That is why Zometool is such a terrific option for kids that may be intrigued by science, architecture, art or engineering.
Zometool offers a variety of building kits for kids of all ages, including some fascinating kits like Bubble Bundle and Project Kit: The Buckyball. Each Zometool kit consists of struts ("sticks)" and balls which connect to create a wide universe of shapes. All sets are made to high quality standards in the company's wind powered Longmont, CO factory and are ready to help your kids explore and learn.
Even though Princess P is a little below the recommend age range for the Zometool kits, I knew that she would have a blast with Crazy Bubbles kit if I were to help her. So, when we received the Crazy Bubbles from Zometool to review, I made sure Little Miss was occupied so I could help her create a world of bubbles.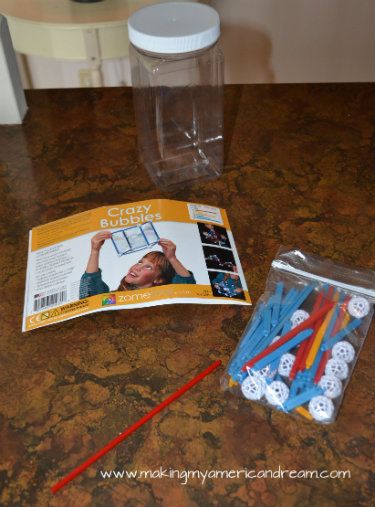 Crazy Bubbles (ages 6+) allows your child to create a whole new dimension of bubbles right in your own home. We're talking square, cubic, triangular and even spiral bubbles! The
Crazy Bubbles
kit from Zometool comes with 52-pieces and you can even add other kits to make more, bigger, better bubbles.
To create bubbles, you do have to make your own bubble solution. You need a container that will hold 2.5 gallons of water (we used the kitchen sink and it worked fine) and a 1/2 of dishwashing liquid, like Dawn or Joy (that is what is recommended to work the best). Then, you just mix the solution with your hand. It is also recommended to keep you surface free of foam, but that is hard to do with a four year old.

When I opened the kit, I went for the shape that looked the easiest to build and that was the 3D Triangle. I have to admit, it took me a little while to get the balls turned just the right way so that all of the sticks would fit just right. After I got it going, though, it didn't take long to complete.
With Princess P on a stool beside the sink, I showed her how to dip the triangle into the solution and bring it up slowly so that the bubble didn't pop. She, of course, was excited and just had to have a turn. She dipped the shape into the bubble solution and got all giddy when a bubble had formed inside.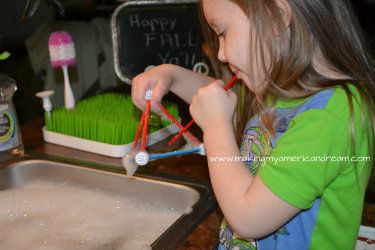 Then, it was time to use the straw to create a bubble inside of the bubble. I attempted it myself and after a couple of tries, I was successful. However, Princess P just thought it was funny to pop the bubbles with a straw.
While P is still a little young to appreciate the Crazy Bubbles kit from Zometool, she did have fun making bubbles and, of course, playing in the water. Give her a few years and I am sure she will be showing me a thing or two in the shapes department!
Coupon Code: My readers can take 15% off their order and score free shipping at zometool.com with the code Dream
Buy It: The Crazy Bubbles kit ($19) can be purchased at zometool.com
Giveaway   Giveaway
One lucky reader will win their choice of the Crazy Bubbles or Pyramid Power kit from Zometool!
a Rafflecopter giveaway

This review is based strictly my opinion. Others may have a different opinion or experience with the product listed above. I was provided the sample free of charge and I provided my honest opinion. No other type compensation was received for this review.