Have a little one on your holiday shopping list but instead of clothes, you want to get them a fun toy that will keep their interest? Check out the Pretty in Pink™ Click & Giggle Remote™ from Bright Starts™!

Ever catch your little one eying or reaching for the remote? Those buttons just look so fun to push and the lights make it extra special. With the Pretty in Pink™ Click & Giggle Remote™, baby can have a remote just like Mom and Dad, only this one is a little cooler! The Pretty in Pink™ Click & Giggle Remote™  from Bright Starts™ features over 25 nursery rhyme melodies, numbers and fun television sounds. Not only that, but this remote control lights up when the buttons are pressed to keep baby engaged! The Click & Giggle™ Remote is for ages 3m+ and requires 2 AAA batteries (included).

Recently, Bright Starts™ sent Little Miss the Pretty in Pink™ Click & Giggle™ Remote to review. At first, she didn't know what to think of it, but Princess P was nice enough to show her how it worked. Little Miss watched as P pressed the big numbers on the remote control and got a surprised look on her face when each of them made a "remote sound" followed by a melody or rhythm.
The "volume controls" and "channel up and down" button on the Click & Giggle™ Remote also make a "remote control" sound and play a melody, rhythm or a television show snippet afterwards (like laughing or animal noises). The round ball in the center of the remote spins and features three cute characters inside to keep baby's attention. The top of the Pretty in Pink™Click & Giggle™ Remote from Bright Starts ™ also lights up at the top like a real remote control.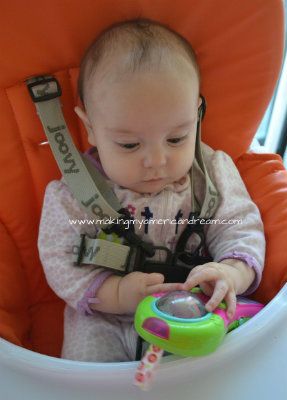 Little Miss likes to look at the Click & Giggle™ Remote and watch as it lights up and makes sounds, but she hasn't quite got the hang of pressing the buttons yet. I only give her a month or two, though, and she will be working it like a pro! In the meantime, big sister is willing to lend a helping hand and push the buttons for her. (Of course, she only
occasionally
carries the remote off to play with in her room.)
One thing I have noticed about the Bright Starts™ Pretty in Pink™ Click & Giggle™ remote, though, is that the attachment clip (for car seats, strollers, etc.) isn't like the one pictured on the Bright Starts™ website. In fact, the one we received to review doesn't even have a separate place to attach the remote to. I've been slipping the ribbon onto the attachment clip and it works, but you have to keep an eye on it or the remote ribbon will slide right off. I got Little Miss out of the car the other day and the remote was on the floor and the clip was still attached to her car seat. However, when I give the remote to Little Miss to play with in the house, I like that the clip isn't attached. Just something to keep in mind.
Buy It: The Pretty in Pink™ Click & Giggle™ Remote ($9.99) can be purchased at toysrus.com or walmart.com (Where it is featured as a Top Toy pick and is currently on Rollback for $6.88)
Giveaway   Giveaway
One lucky reader will win a Pretty in Pink™ Click & Giggle™ Remote from Bright Starts™!
a Rafflecopter giveaway

This review is based strictly my opinion. Others may have a different opinion or experience with the product listed above. I was provided the sample free of charge and I provided my honest opinion. No other type compensation was received for this review.