With the Holidays inching closer and closer, I am on the lookout for gift ideas that will not break the bank. Because, if you are like us, you have a long list of people to shop for on a limited budget. One idea that I thought would be great for the Grandparents, was a wrapped canvas of the girls to hang in their living room. But, when I started looking around at prices, I was shocked at just how much they cost. Then, I heard about Krome Photos partnering with Zazzle to offer a huge discount on custom wrapped canvases (with pro photo enhancing!) at a huge discount!
Krome Photos is a service that combines human talent and cutting edge technology to produce some truly awesome photo products. Using their interactive dashboard, it is easy to upload, organize and order photo collections in minutes. Whether you have hundreds of photos that need basic crop adjustments and color enhancements, or you have just one photo that needs special retouching and editing, Krome Photos has a solution for you.
Right now, through the special promotion with Krome Photos and Zazzle, you can order a custom wrapped canvas with pro photo enhancement at a staggering 67% off! Simply upload your photo and choose your editing options and the people at Krome Photos will do the rest! The result – a ready to hang gallery wrapped canvas print that will look great in your home or office!

Recently, I was given the chance to have a custom a custom wrapped canvas print from Krome Photos made. The process was super simple to do, literally just upload your photo, choose the size (I opted for the 16 x 20, but you can choose from 4 different sizes) and enhancing options (such as enhance color, remove objects and retouch faces) and you're done! You don' t have to worry about getting the red-eye out or anything, because the people at Krome Photos will do it for you!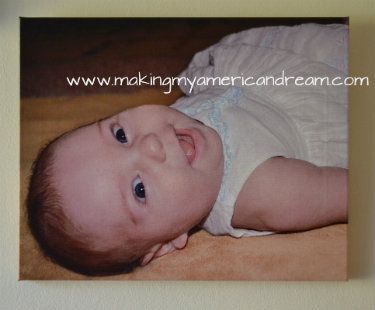 Shortly after I submitted my photo, I was sent an email with a proof of the enhanced print. After I approved the proof, my canvas was ready to be made and it arrived in only a few days! When I pulled it out of the box, I was so pleased with the way it turned out! The colors are so much more vivid than the original photo and Little Miss just looks so cute!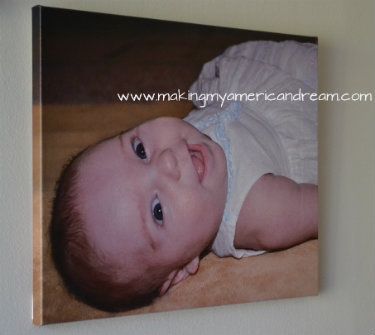 The custom wrapped canvas print from Krome Photos came ready to hang and I wasted no time getting it on our bare kitchen/dining area wall. It brightens up this drab area tremendously and I just love to look at it! The quality of the canvas is great and appears to cost so much more than it actually did. If you look at the print really hard, though, you can see a line where the back of the frame is, but it is only on one side and is not really a big deal. Other than that, I adore this canvas print and I am actually considering getting a custom wrapped canvas print from Krome Photos (through the
Zazzle promotion
) for the Grandparents this holiday season!
Be sure to like Krome Photos on Facebook and follow on Twitter for news and special promotions!
Buy It: Click here (this is linked to the coupon code) to get a Custom Wrapped Canvas Print with Pro Photo Enhancing from Zazzle and Krome Photos for only $39! (That is 67% off of the retail price of $119!) You can also order custom cases for the iPhone 5 through Zazzle and Krome Photos.
This review is based strictly my opinion. Others may have a different opinion or experience with the product listed above. I was provided the sample free of charge and I provided my honest opinion. No other type compensation was received for this review.