Back in March, I had the opportunity to work with Zutano during the Baby Shower Event and I was sent a teeny-tiny outfit to review. Well, that outfit just happened to be the outfit we brought Little Miss home from the hospital in and it will be one I will treasure always. But, like all babies, she grew out of that teeny-tiny outfit from Zutano in a matter of weeks and I was forced to pack it away. Lucky for me, though, Zutano was nice enough to send another outfit for Little Miss to review during the Holiday Gift Guide!
Inspired by a baby from the very beginning, Zutano strives to create clothing that reflect the unique character of babies. Nestled in the green hills of Vermont, they carefully source only the softest cottons for each new product, creating a line of superior quality clothing and accessories in a rainbow of colors and prints. Vibrantly colored, versatility designed and oh so cute, Zutano's clothing helps celebrate your child's individuality.
Little Miss was sent the Sugar Bramble Baby Henley Dress, Super Stripe Skinny Legging and Pool Cozie Baby Hat from Zutano to review. Each of these brightly colored pieces are super soft and look adorable on! Little Miss approved of them, too!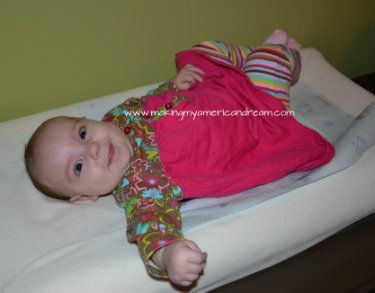 The Sugar Bramble Baby Henley Dress features a uniquely designed pink, blue and brown top with a solid pink bottom. The buttons down the front of the flower print top allow for easy dressing and the french terry material is super soft on baby's skin. Add the brightly colored cotton Super Stripe Skinny Legging underneath and you have a pretty cute and stylish outfit! Plus, add the Pool Cozie Baby Hat (complete with bear ears) on top and baby will look super adorable and warm!
(She was over having her picture taken!)
Now, let's talk sizing. Zutano recently changed their sizing guide so now sizes are listed as 6m (0-6 months), 9m (6-9 months) and 12m (6-12 months). However, be sure to check the weight and height measurements that go along with the size's to get the best fit for your baby. I requested the items above in a size 12m, even though Little Miss will only be 4 months old, because of the measurements. She is around 14lbs and is 23″ long, so I knew the 6m size would be grown out of in the next month. But, when I went to look for items in the 9m size (which would have fit perfectly), I didn't find very many. The size 12m items looked pretty big when they arrived, but I washed them and put them on Little Miss and they were only a bit big. She will probably be able to wear this outfit all winter before growing out of it, hopefully. Just be sure to check the height and weight guidelines before ordering and you should be fine.
Zutano is a great place to turn for clothing that is "out-of-the-box" and original. Not only will your little one look adorable in their clothing, but they will look unique as well!
Buy It: The Sugar Bramble Baby Henley Dress ($32), Super Stripe Baby Legging ($19) and Pool Cozie baby Hat ($14) can be purchased at zutano.com
Cyber Monday Alert: Zutano email subscribers will receive a 25% off coupon code to use on the entire Zutano online store! Be sure to sign up for the Zutano Newsletter now to ensure that you get your coupon for Cyber Monday! Happy Cyber Monday Shopping!
Giveaway   Giveaway
One lucky reader will win a $75 Gift Card to Zutano!
a Rafflecopter giveaway

This review is based strictly my opinion. Others may have a different opinion or experience with the product listed above. I was provided the sample free of charge and I provided my honest opinion. No other type compensation was received for this review.